Thank you for visiting the
Save-Open-Space Hui
Site. The purpose of this site is to disseminate information about Starwood Capital Group's (SCG) proposed resort expansion, commonly known as Glamorous Camping "
glamping
", on the Makai Woods Golf Course links 1 thru 3, located within the beautiful community of Princeville, Kauai HI.
Members of the S-O-S Hui are AGAINST this proposed "glamping" development.
Please contact us if you would like to submit comments or testimonials opposing resort expansion/"glamping" in Princeville and its environs, be added to our email list or have other questions concerning our mission.
---
Princeville Makai 27 Hole Golf Course.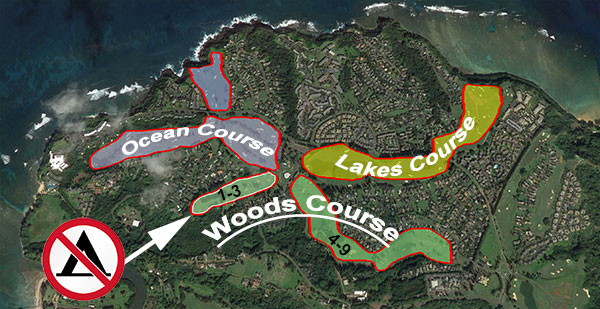 View full-size image.
---
Proposed site for the "glamping" development (Makai Woods holes 1-3).
"Design representations are conceptual and for the purposes of planning approvals only and subject to alteration prior to submission. This document was prepared by Starwood Capital Group/East West Partners. Information contained herein does not represent the opinion of the PHCA and is intended for informational purposes only." - East West Partners (12/9/20)
Image edited by site administrator to highlight key HOA's.
View full-size image
.