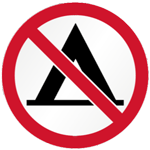 Thank you for visiting the Save-Our-Space Hui Site.

The purpose of this site is to disseminate information about Starwood Capital Group's proposed resort expansion, commonly known as Glamorous Camping "
glamping
", on the Makai Woods Golf Course links 1 thru 3, located within the beautiful community of Princeville, Kauai HI.
Members of the S-O-S Hui are AGAINST this proposed "glamping" development.
The latest news & website updates
(NEW 01/18)
(NEW 01/18)

- Happy 2021 Princeville'ites. This is a reminder of the Thursday Jan. 21, 2021 at 4pm monthly PHCA Board Meeting. View the agenda by first logging into www.princevillecommunity.com and clicking on the Agenda. Your smiling face on the Zoom meeting reiterates to the PHCA Board and developers East West Partners, your continued support of NO glamping in Princeville. In this case, the size of the attendee list DOES MATTER. In preparation, you can review the PHCA Survey results to see how many folks are really against "glamping".
1/6/21

- Random photographs taken mostly by Bob Wright (deceased) of Princeville now appear at the bottom of pages. A reminder why we need to save ALL the existing Makai Golf Course/Open Green Space within Princeville.
12/19/20

- View SOSHui's Summary Notes from the 12/17/20 PHCA Board Meeting via Zoom. PHCA survey results show (+90%) of 782 respondents supported keeping open space. Separately, the Board had received a letter from SDCA and decided not to respond to any questions regarding "glamping" or the survey.
12/16/20

- Urgent: Quickly send an email using our pre-defined email template to the PHCA Board expressing why they should NOT SUPPORT Starwood Capital's request for PHCA's support at the Planning Dept. The PHCA Survey results will be announced at the 12/17/20 Board meeting.
More...
---
Please contact us if you would like to submit comments or testimonials opposing resort expansion/"glamping" in Princeville and its environs, be added to our email list (over 300 now) or have other questions concerning our mission.
Who is Starwood Capital Group, East West Partners & others?
PHCA - Princeville at Hanalei Community Association. The Princeville homeowners association responsible for the overall operation of the Princeville community.
SDCA - Sunset Drive Community Association. An association of 26 homeowners directly adjacent to the proposed Glamping development located within Princeville.
Glamping - "Glamorous Camping". The hospitality industry's developing of destination locations for higher profit margins and lower investment costs. Their sales pitch is that you can stay in the outdoors (camping), while having your sheets turned down each night (glamorous).
Example Glamping destinations shows you what one would normally expect for Glamping in the outdoors, not in the middle of a Princeville residential neighborhood.
Starwood Capital Group
Investment company based in FL, co-founder Barry Sternlicht, owners of 1Hotels franchise and proposed Glamping site.
Jason Cruce - Starwood VP (Los Angeles) - JCruce@starwood.com
Evergreen Corp. - The Starwood Capital subsidiary that will own the proposed Glamping site.
SH Hotels & Resorts - Starwood Capital's hotel management company which will manage the 1Hotel and Glamping facilities.
East West Partners - Project development corporation located in Colorado responsible for building out the 1Hotel and the proposed Glamping development.

Will Little - Managing Director (CO/Kauai) - WLittle@ewpartners.com

Mark Hall - Construction Manager (Kauai) - MHall@ewpartners.com

---
---
Click below to view a short video (with audio)
---
Makai 27 Hole Golf Course.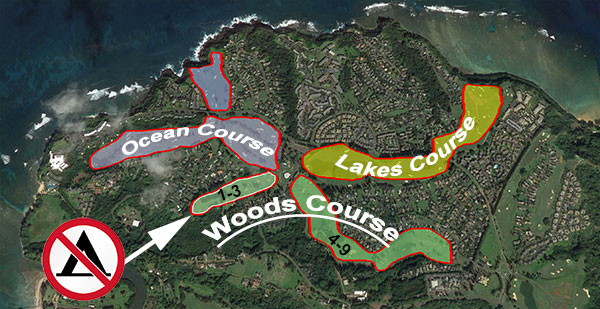 View full-size image.
---
Proposed site for the "glamping" development (Makai Woods holes 1-3).
"Design representations are conceptual and for the purposes of planning approvals only and subject to alteration prior to submission. This document was prepared by Starwood Capital Group/East West Partners. Information contained herein does not represent the opinion of the PHCA and is intended for informational purposes only." - East West Partners (12/9/20)
Image edited by site administrator to highlight key HOA's.
View full-size image
.